FIRST WORLD WAR WOMEN
working for peace in Melbourne 1914-1919

PROLOGUE === 4. === 6. THE WOMEN'S POLITICAL ASSOCIATION
5. VIDA GOLDSTEIN
In an open letter to the women of Australia:
Dear women of Australia,
dear women of every shade
of political and religious thought,
come and let us reason together about war;
the present war and war in general.
Every nation without exception
has made such egregious blunders
in its foreign policy that war was inevitable;
that the war has been made
by monarchs, politicians, diplomats,
armament firms, and newspapers:
that alliances and ententes cordiales
are so many powder magazines.
Do not wait until "after the war".
Woman's hour has struck.
The war makes that clear.
History will proclaim you false
if you are silent now.
"Come and be separate
from all that makes for war."
Open letter to the women of Australia,
Woman Voter 29 September 1914
State Library of Victoria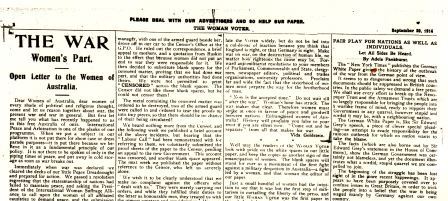 State Library of Victoria