FIRST WORLD WAR WOMEN
working for peace in Melbourne 1914-1919

PROLOGUE
===
3.
===
5. VIDA GOLDSTEIN
4. LET US REASON TOGETHER
Vida Goldstein in an interview with a journalist
from the Herald 11 August 1914:
By the present development it seems that human
life is held of no importance in comparison with
property and aggrandisement of territory ...
It is my earnest hope that women in all parts of
the world will stand together, demanding a more
reasonable and civilised way of dealing with
international disputes ...
The enfranchised women are political units of the
British Empire, and they ought to lead the world in
sane methods of dealing with these conflicts...
Now what are you women going to do about the
whole question of militarism in Australia, about
militarism in other countries?
Woman Voter 11 August 1914 State Library of Victoria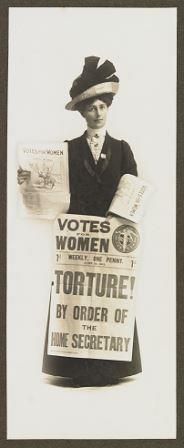 Vida Goldstein, Torture by order of Home Secretary, Maurice Blackburn papers MS, State Library of Victoria
Herald 6 August 1912
=== 5. VIDA GOLDSTEIN ===