FIRST WORLD WAR WOMEN
working for peace in Melbourne 1914-1919

PROLOGUE === 20. === 22. THE WPA ESTABLISHED AND RAN A WOMEN'S FARMING CO-OPERATIVE
21. THE WPA ESTABLISHED AND RAN A WOMEN'S UNEMPLOYMENT BUREAU

Distress in Melbourne -
a scheme to help unemployed women -
We want to take some practical steps.
We wish to impress upon our readers that Australia is in a very
precarious position. Efforts are being made to deprive the
community of the benefits which the devotion of many lives has
won. There have been wholesale dismissals of employees, which,
in many cases, are quite unjustified ...
We want to take some practical steps. Charity is useless and
harmful. The WPA therefore will attempt to organise the women
workers in industries from which they themselves will draw the
sole profit.
The number of women registering at the WPA bureau continues to
increase, and our little workroom is more than overcrowded.
We hope that the old cry "Women's place is in the Home" is dead
forever. Nobody can suggest a means by which women can keep
their homes together without working, and work is no longer
forthcoming ...
We now see that the wives who are breadwinners form a
permanent class in the community, whose needs must be
considered and met. They are the first to fall out of employment by
reason of the nature of the work they do.
Woman Voter 16, 25 February 1915 State Library of Victoria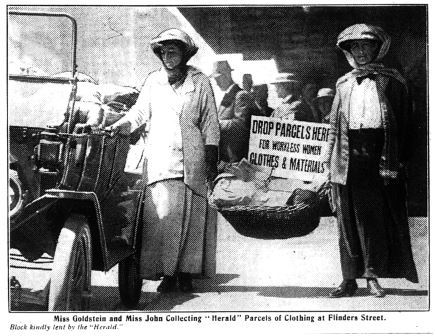 Woman Voter 23 February 1915, Collecting parcels of clothing, State Library of Victoria
=== 22. THE WPA ESTABLISHED AND RAN A WOMEN'S FARMING CO-OPERATIVE ===