FIRST WORLD WAR WOMEN
working for peace in Melbourne 1914-1919

PROLOGUE === 26. === 28. 80,000 PEOPLE ON YARRA BANK


27. WOMEN'S PEACE ARMY LEAFLETS
No. 1 - No Conscription - If Parliament watches the interests of the
people properly, Conscription can never be made law ... the power to
apply the Defence Act in that way exists only when there is danger
of an invasion or an armed attack upon the Commonwealth.
No. 2 - Conscription and Women - All true women should oppose
conscription because conscription makes wars.
No. 3 - Conscription Hands Us Over to the Armament Ring ... The
policy of huge armaments which made war inevitable, and rendered
it so dreadful when it came, was dictated by an International Ring of
Armament firms under the direction of prominent and all powerful
statesmen and financiers who control parliaments, governments and
the press.
No. 4 - Conscription and Crushing Germany ... To say that permanent
peace will be secured by crushing Germany is to speak ignorantly
and foolishly. Are the women and children to be exterminated? Why?
In June 1915, Germany had 6,493,000 soldiers or 10% of her total
population on the field ... If the Allies, by means of fearful sacrifice,
destroy that 10%, the rest of the population, 90% of it, still remain.
These are mainly women and children - more than one half are
children. They represent a new Germany, and in a few years they will
grow to be men and women, from whom a new generation of
soldiers can be recruited.
Woman Voter 14 September 1916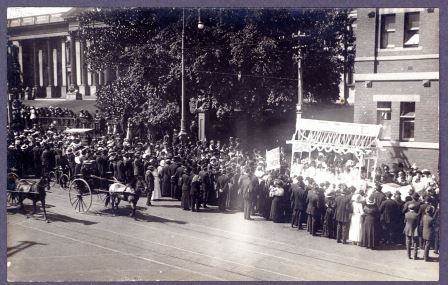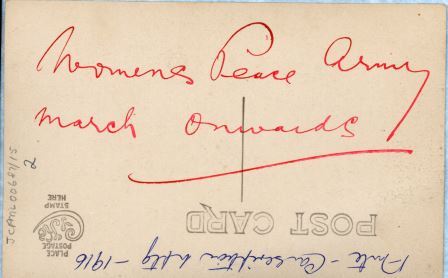 Courtesy of John Curtin Prime Ministerial Library. Records of Tom Fitzgerald. Marchers in procession, 21 October 1916. JCPML00687/15/2
=== 28. 80,000 PEOPLE ON YARRA BANK ===