FIRST WORLD WAR WOMEN
working for peace in Melbourne 1914-1919

PROLOGUE === 2. === 4. LET US REASON TOGETHER
3. THE WAR - WOMEN'S PART
Woman Voter 11 August 1914:
Shall the mothers of the world rejoice? Shall they
not rather weep?
The reports from Europe which reach us lead us to
suppose that Britain has been victorious over the
German arms.
25,000 German casualties have been reported,
though it is denied that there has yet been a naval
engagement of importance.
The press asks us to rejoice over these victories
over the 25,000 who have paid the price of human
hate and human greed.
We cannot rejoice in the victory without, at the
same time, applauding the carnage.
We must pay the price of victory with death.
The thunder of shot and shell, the shouts of
victory cannot drown, in women's ears, the voices
of mothers weeping for their sons, the wailing of
children left fatherless in a stricken country.
Not all the bands and banners, not all the patriotic
demonstrations, or the pride of conquest can
make us forget that every man who lies dead on
the field of battle, or mutilated and dying in the
hospitals, represents for his father and mother
their pain, love, toil and care, and their humanity -
the hope and promise of the future.
Woman Voter 11 August 1914 State Library of Victoria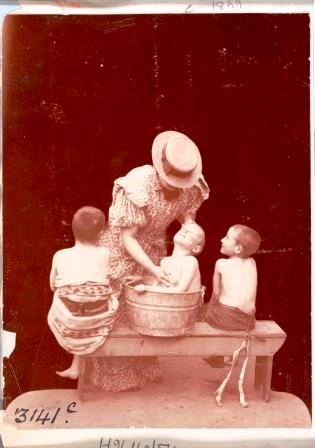 Bathing, 1899, Frances Edgar Masterton Vallance,
State Library of Victoria
=== 4. LET US REASON TOGETHER ===