FIRST WORLD WAR WOMEN
working for peace in Melbourne 1914-1919

PROLOGUE === 35. === 37. THE WORLD

IS SICK UNTO DEATH
36. HYPOCRISY
The Woman Voter reported:
Peace has come.
Let those who can still deceive themselves
celebrate it.
Of peace I have little to say.
It is unspeakable, what there is of it.
We have saved the world from the Germans.
Heaven send us something
to save the world from us.
The Home Government, through Mr Churchill,
has quite frankly explained the necessity
for preparing for perpetual war.
We are at war or warring in pretty well
every quarter of the globe ...

We consign to starvation ...
women, little children and old men -
firmly refusing to end our war with them,
even when the war with their men had ceased ...
We bomb defenceless towns from the air,
while our press is still yelling for the blood
of those who transgressed international law
and our gentle women and brave men
bear these unnameable things
with an equanimity in which can be detected
not one quiver of protest.
I wish, for my soul's relief,
I could find two words that would express
our damnable hypocrisy.
Woman Voter 3 July 1919 State Library of Victoria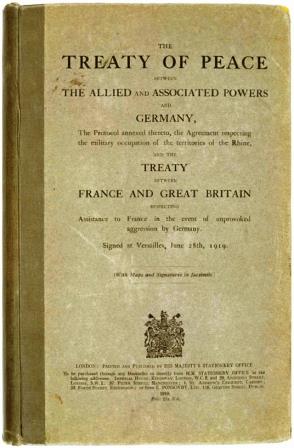 http://en.wikipedia.org/wiki/Treaty_of_Versailles
=== 37. THE WORLD IS SICK UNTO DEATH ===