FIRST WORLD WAR WOMEN
working for peace in Melbourne 1914-1919

PROLOGUE === 45. === 47. AN ANZAC SERMON
46. ANZAC - THE WOMEN'S POLITICAL ASSOCIATION




Vida Goldstein lost her only brother in the war.
============
Masculine Logic -
Nearly 5,000 Australians have been killed or
wounded at Gallipoli, fighting against the Turks.
One result of their death and suffering will be to
establish Russia in Constantinople.
Their fathers and grandfathers used to sing
"The Rooshians shan't have Constantinople,"
and England (is) still paying the bill for a war to
prevent the very thing we are running up a much
bigger bill to accomplish.
Woman Voter 3 June 1915 State Library of Victoria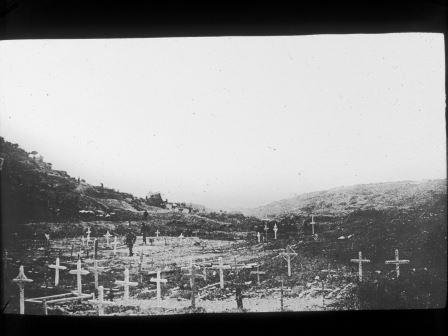 Cemetery at Gallipoli, 1915, T. P. Bennett, photographer, SLV
=== 47. AN ANZAC SERMON ===