FIRST WORLD WAR WOMEN
working for peace in Melbourne 1914-1919

PROLOGUE === 24. === 26. THE WPA OPPOSED CONSCRIPTION

25. THE WPA GREW BEYOND VICTORIA
Early last week Miss Goldstein
held hugely successful meetings
in Warrnambool, Mortlake and Camperdown,
under the auspices
of the Corangamite Anti-Conscription Council.
Later she left to speak at Hobart, Campbelltown,
Launceston, Deloraine, Devonport and Burnie.
Woman Voter 13 December 1917
State Library of Victoria
============
The buttons are the most attractive
that have been produced in Australia,
the design being a white dove,
bearing an olive branch,
on a purple ground within a green circle.
Woman Voter 16 January 1919 State Library of Victoria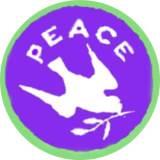 === 26. THE WPA OPPOSED CONSCRIPTION ===