FIRST WORLD WAR WOMEN
working for peace in Melbourne 1914-1919

PROLOGUE
=== 34. === 36. HYPOCRISY
35. 1919 THE WPA EXPOSED THE BLOCKADE

The Starving Babies of Germany -
From Miss Harriet Newcomb comes a letter
describing the terrible sufferings of mothers and
babies in Germany, the result of that unfortunate
"military necessity", the British Blockade.
To some minds it contains the absolute
condemnation of militarism in each and all of its
manifestations.
If the results of war, conducted in a perfectly fair,
humane and gentlemanly way, as politician,
churchman and journalist have every day for four
years assured us it was conducted, are so dire,
what must they be where a nation "deliberately
makes war on women and children?" ...
Miss Newcomb says: "The pitiful conditions of
thousands of poor little babies in Germany cannot
be exaggerated. It can only be compared to the
state of things known in India during one of the
worst famines ...
The medical authorities in Germany have
appealed to England for 1,000,000 India-rubber
teats. The mothers in Germany, through
underfeeding, cannot suckle their infants ...
The babies are too weak to suck through the bone
or wooden teats which are all that can be
provided."
Woman Voter 27 March 1919 State Library of Victoria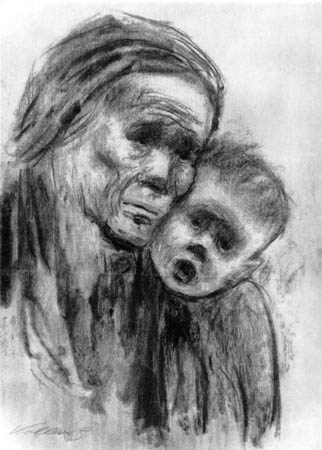 === 36. HYPOCRISY ===