FIRST WORLD WAR WOMEN
working for peace in Melbourne 1914-1919

PROLOGUE === 14 === 16. THE WPA PROTESTED AGAINST UNEMPLOYMENT


15. THE WPA WAS FEMINIST
Mary Fullerton:
Oh, why this carnage, lord and king?
Oh, spare our sons we plead.
The war lord raised his regal hand -
"Woman, begone and breed". M.E.F.
Woman Voter 2 March 1915 State Library of Victoria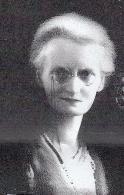 Mary E. Fullerton
============
Vida Goldstein:
War - red and bloody war - will not have the toll
so much desired by it, for women will increasingly
refuse to give life that men may take it.
The prostitution of the brain of man in making all
science but a means of dealing death in more
horrible forms will not be followed by the
prostitution of women in giving life to a child that
it may grow to manhood but to murder his fellow
man.
Woman Voter 24 February 1916 State Library of Victoria

Vida Goldstein
=== 16. THE WPA PROTESTED AGAINST UNEMPLOYMENT ===