FIRST WORLD WAR WOMEN
working for peace in Melbourne 1914-1919

PROLOGUE === 12 === 14. THE WPA DEMANDED
TERMS OF PEACE BE DECLARED
AND SUBMITTED TO THE PEOPLE


13. WARRING AGAINST WAR - SUPPORTING SOLDIERS
The WPA gave support to soldiers in many ways,
particularly to men in Prisoner of War camps.
Trained Nurses for Soldiers:
At long last the military authorities have
consented to employ trained women nurses at the
various camps.
It is deplorable that it should have taken so long
to secure this very necessary reform, and that so
many sick soldiers should have had their
sufferings increased unnecessarily owing to the
lack of that care and attention
and sympathy that are so essential to the sick.
Woman Voter 21 October 1915
============
The soldiers who go away are heroes; the
wounded soldiers who return are a nuisance, to be
bundled away to their homes, or to hospital, or to
other States, as quickly as possible, regardless of
comfort or provision of money or food.
The treatment metered out to wounded soldiers,
and their nurses, who arrived by the "Kyarra" ...
was brought before the House ...
The response?
"The matter is being looked into."
Woman Voter 29 July 1915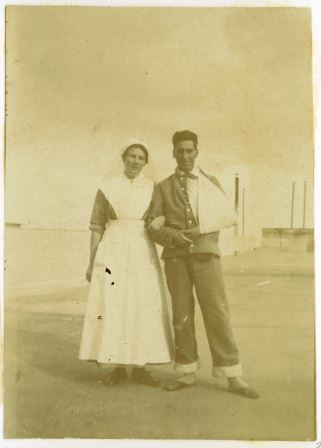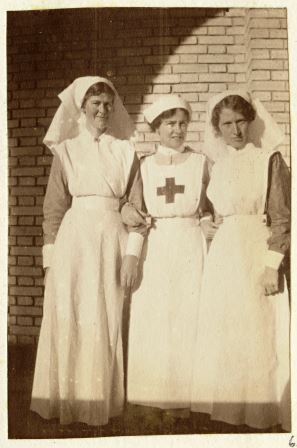 Nurse with wounded soldier, and Australian nurses, Egypt, c. 1914-1918, Kathleen Gawler Collection, State Library of Victoria, Gift of Kathleen Gawler (niece), 2011
Australian soldiers in Egypt, c. 1914-1918, Kathleen Gawler Collection, State Library of Victoria, Gift of Kathleen Gawler (niece), 2011
=== 14. THE WPA DEMANDED
TERMS OF PEACE BE DECLARED
AND SUBMITTED TO THE PEOPLE ===