FIRST WORLD WAR WOMEN
working for peace in Melbourne 1914-1919

PROLOGUE === 40. === 42. HERE, IN AUSTRALIA

41. THE OLD ORDER HAS NOT CHANGED
About a situation which is hourly changing,
and about which our information is so fragmented and unreliable,
it is little use of saying much.
One thing, however, stands starkly clear
amidst all the uncertainty of the world's affairs -
that is, the old order has not changed ...
The winning nations, in the person of their rulers,
show that victory has poisoned them,
put a dangerous virus in their veins, a kind of "ill ichor",
which, working its course, produces new wars.
The map will be changed, that is all,
and the balance of power readjusted.
New animosities, like mushrooms, are being sown.
One can hear the clatter of new swords
between the words at the peace table.
Such a fine term as "mandatory powers"
is but a masquerade for the old thing "protectorate",
and protectorate is, we know, a euphemism for something else.
The language and conduct of diplomacy are still to obtain,
the powerful are still to hold,
and the small and feeble to be subject.
The defeated are to be degraded to the utmost in the unarming,
crippled in opportunity, and mortgaged beyond reason.
Woman Voter 22 May 1919 State Library of Victoria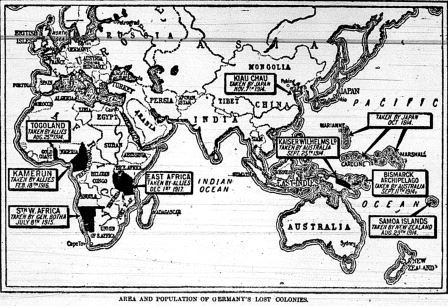 Leader in the Age 12 July 1919
=== 42. HERE, IN AUSTRALIA ===