FIRST WORLD WAR WOMEN
working for peace in Melbourne 1914-1919

PROLOGUE === 8. === 10. A FIGHT LED BY A WOMAN
9. THEY FOUGHT FOR CIVIL LIBERTY
Vida Goldstein:
(Women) must stand united in the cause of free
speech, a free press, and the rights of conscience -
those great bulwarks of liberty - which they would
not allow to be filched from them in this time of
panic.
Woman Voter 9 September 1915 State Library of Victoria
============
Military Censorship -
The blank pages in last week's issue of
"The Woman Voter"
show that our paper has come under the ban
of the military censor ...
Our civil liberty and the freedom of the press are
in jeopardy, and we are prepared to fight for both ...
On 9th instant an armed guard, with fixed
bayonets, a commanding officer, a detective, and
police, took charge of the establishment of our
printers, Messrs Fraser and Jenkinson ... seized
the first prints of the "Woman Voter", and the
correspondence etc. referred to above was
destroyed.
We are told that we may publish anything that will
"stimulate military enthusiasm" which is
explained by the "Military Journal" as developing
a "desire to kill."
Woman Voter 16 September 1914 State Library of Victoria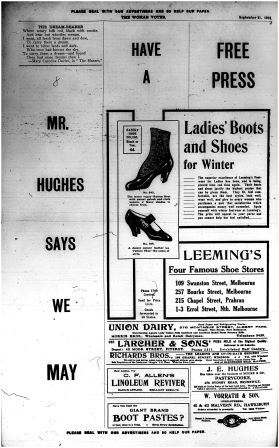 Woman Voter 21 September 1916 State Library of Victoria

=== 10. A FIGHT LED BY A WOMAN ===