FIRST WORLD WAR WOMEN
working for peace in Melbourne 1914-1919

PROLOGUE === 44. === 46. ANZAC - THE WOMEN'S POLITICAL ASSOCIATION
45. ANZAC - THE SISTERHOOD FOR
INTERNATIONAL PEACE (1915-1919)

At the landing on Gallipoli, April 25, 1915,
the elder son of our
vice-president, Mrs Warren Kerr, was one of the first to be killed.
The effect on the mother was to inspire her with still stronger
determination to devote her life to work for the abolition of war.
Eleanor M. Moore, The Quest for Peace as I have known it in Australia, Melbourne
============
Eleanor Moore:
About that time Mr Winston Churchill made this
public utterance:- "No operations in history are
more worthy of being pushed on with the utmost
vigour and an utter disregard for life than those at
Gallipoli."
On reading this, Mrs Kerr wrote and published in
leaflet form an Appeal to Women, beginning:-
"I think it was then that the iron entered my soul
and I finally decided what my life's work should be ...
Australia makes no complaint," I read elsewhere.
Women, have you no hearts, who can "utterly
disregard" this?
Eleanor M. Moore, The Quest for Peace as I have known it in Australia, Melbourne 1949 p. 41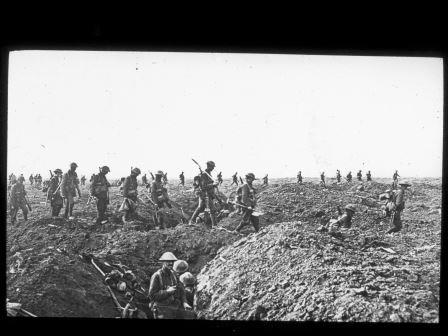 Australian troops advancing, c. 1915, Gift of R. P. Bennett.,
State Library of Victoria
=== 46. ANZAC - THE WOMEN'S POLITICAL ASSOCIATION ===