PROLOGUE === 38. === 40. THE WPA REPORTED THE WOMEN'S INTERNATIONAL CONGRESS
39. THE WPA DENOUNCED THE VERSAILLES PEACE TREATY
The Woman Voter reported:
Letter from Miss Vida Goldstein,
Geneva, Switzerland, 8 June 1919 -
The greatest interest centred around
the discussion of the Peace Terms
and the following resolutions were agreed to:
"This International Congress of Women
expresses its deep regret that the Terms of Peace
proposed at Versailles should so seriously violate
the principles upon which alone a just and
permanent peace can be secured,
and which the democracies of the world
had come to accept.
- By guaranteeing the fruits of the secret treaties
to be the conquerors, the Terms of Peace tacitly
sanction secret diplomacy, deny the principles of
self-determination, recognise the right of the
victors to the spoils of war, and create all over
Europe discords and animosities which can only
lead to future wars.
- By the demand for disarmament of one set
of belligerents only, the principle of justice
is violated and the rule of force is continued.
- By the financial and economic proposals
a hundred million people in the heart of Europe
are condemned to poverty, disease and despair,
which must result in the spread of hatred
and anarchy within each nation."
Woman Voter 1 September 1919 State Library of Victoria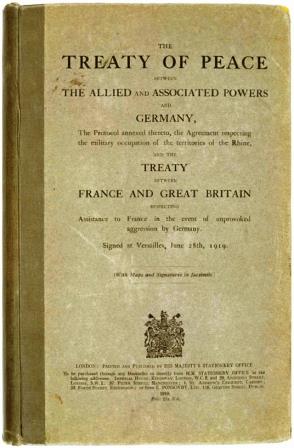 Paris Peace Conference at Versailles 1919,
Dignitaries gathering in the Hall of Mirrors at the Palace of Versailles, France,
to sign the Treaty of Versailles 28 June 1919. Encyclopaedia Brittanica Inc.
=== 40. THE WPA REPORTED THE WOMEN'S INTERNATIONAL CONGRESS ===