FIRST WORLD WAR WOMEN
working for peace in Melbourne 1914-1919

PROLOGUE === 11. === 13. WARRING AGAINST WAR - SUPPORTING SOLDIERS
12. THEY OPPOSED WHITE AUSTRALIA
White Australia Policy Done For -
There are many Australians who have defended a
"White Australia" on economic grounds,
without a thought of racial hatred,
but their self-respect will no longer allow them
to uphold the principle when we accept
the aid of India and Japan in killing our white "enemies".
If we make East and West one in times of war,
we cannot make them two in times of peace ...
So, there endeth the White Australia policy.
Woman Voter 27 October 1914 State Library of Victoria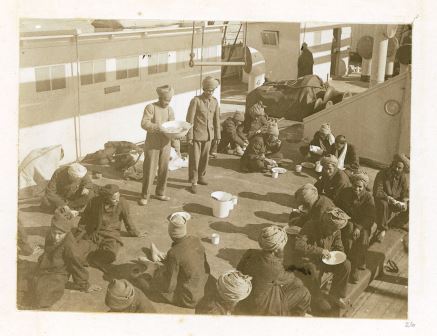 Wounded Indian soldiers, c.1914-1918,
Kathleen Gowler Collection, State Library of Victoria,
gift of Kathleen Gowler (niece), 2011