FIRST WORLD WAR WOMEN
working for peace in Melbourne 1914-1919


PROLOGUE === 47. === 49. THE WOMEN?
48. THE 'WRONGS UNDER WHICH THEIR COMRADES HAD LIVED'
These continued for many returned servicemen and women,
for their families and for the families of
those who did not come home.
In 1891 The Herald had reported:

How the Poor Live, by HAWKEYE -
Examples of miserable homes
might be greatly extended.
Mrs (Isabella) Goldstein pointed out to
me house after house which ought to be condemned
as unfit for human habitation.
She told me dreadful tales of overcrowding,
of cases where as many as fourteen people
occupied a small house with a case of
typhoid amongst them.
I might quote all these,
as well as act forth more fully
the slavery that is endured by the majority
of the struggling women to
keep their bodies and souls together -
with regard to the way in
which the Collingwood poor live.
The Herald 30 April 1891
After the war: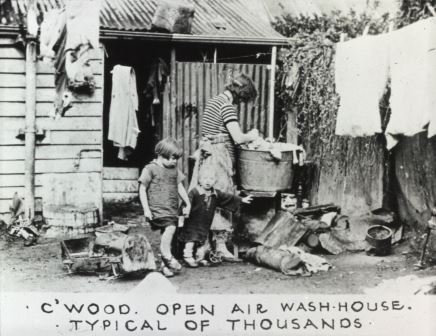 F. Barnett, photographer, Collingwood, 1935, F. Oswald Collection, State Library of Victoria
=== 49. THE WOMEN? ===